Apps | SmartFarm sensors | iCrop | Weather data
Geschreven door AppsforAgri
Categorie: News
Geschreven: 23 October 2018
Hits: 3,399 views
---
AppsforAgri
At a glance October 2018

---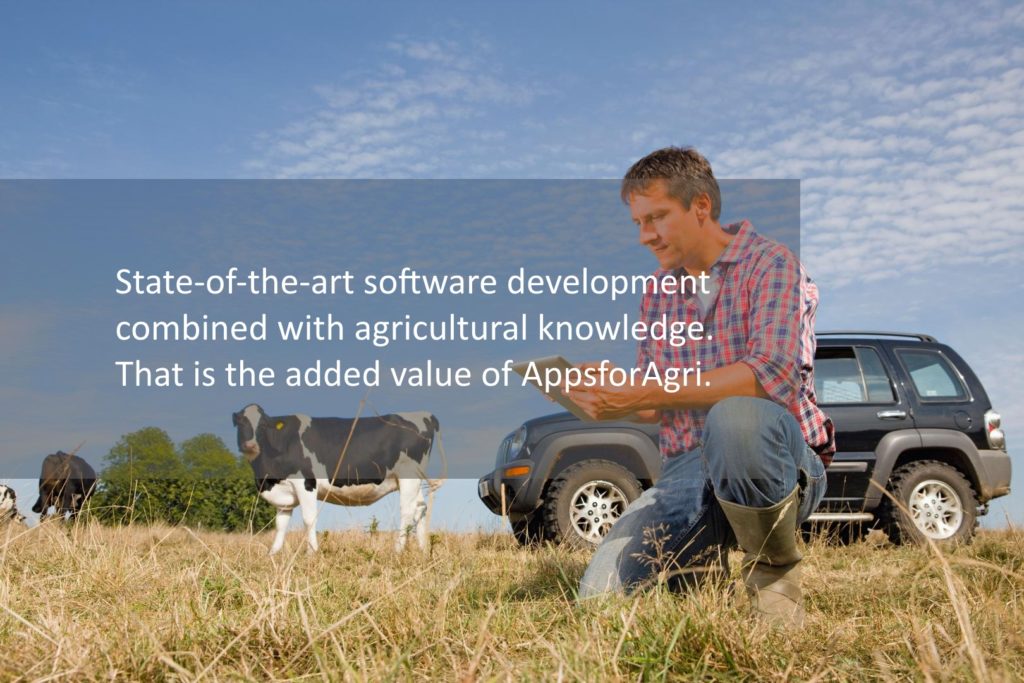 We develop apps that are used by farmers, veterinarians, feed and crop advisors and companies
involved in digital farming for over 100 customers in 8 countries.
AppsforAgri's professional software development team works with the latest technology in which
web applications and mobile apps for iOS and Android, among others, work seamlessly together.
Together with the AppsforAgri ExpertTeam, which includes an agronomist, meteorologist, soil
specialist and data-scientist, we develop knowledge and algorithms to convert data into information.
Two examples of apps
Example 1. Vaccination app for Boehringen Ingelheim
Example 2. Harvest planner for Seminis
We work for a.o.: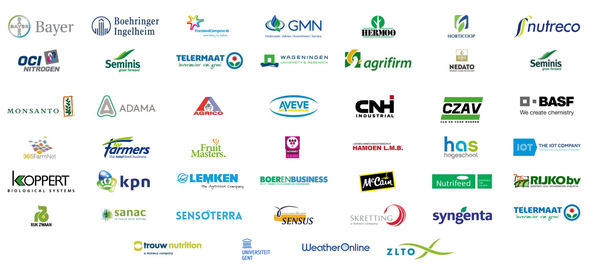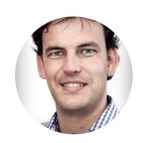 Contact
Would you like to have an app developed? Or do you want more information about software development? Please contact Corné Braber 06 19226535 |
corne@appsforagri.com | LinkedIn
---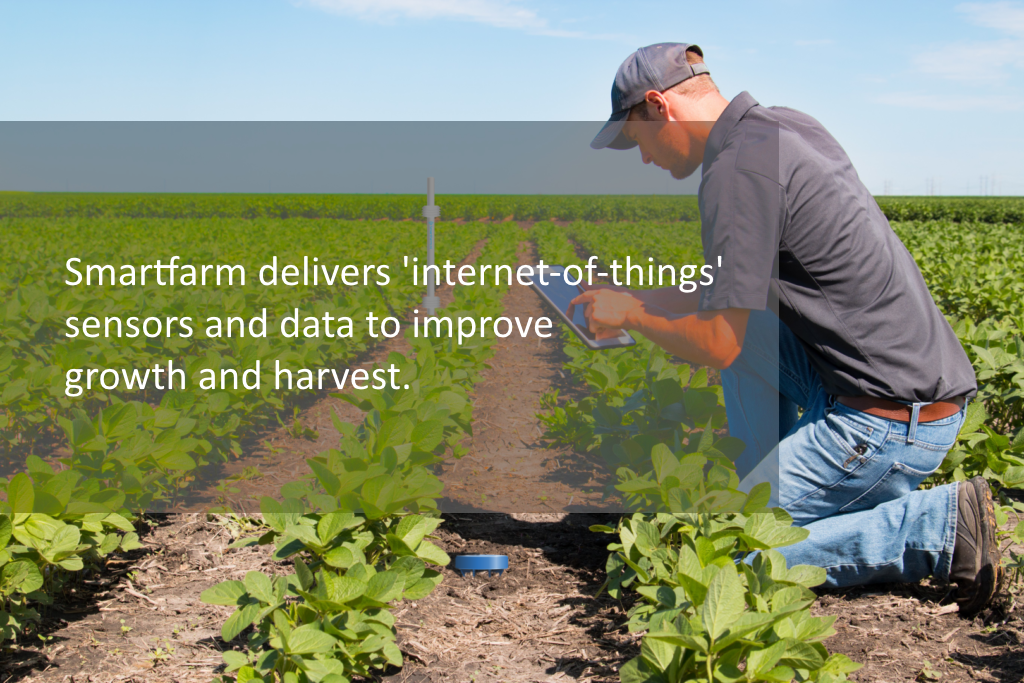 The affordable and accurate SmartFarm sensors are easy to use and provide up-to-date information
about the crop and soil. The sensors help to plan and perform cultivation activities such as crop protection, fertilization and irrigation more effictively. This way you increase productivity and harvest. Measuring alone is not enough, we also provide you with information to improve the protection of your crop.
If you would like to know more about sensors in agriculture and horticulture, read the article Impact of IoT in the agricultural sector. Based on research and knowledge from Wageningen UR, Ohio State University, University of California and the many years of experience of our expert team, we have developed modules that help farmers to keep their crops healthy in the best possible way.

Contact
If you would like more information about sensors or modules, please contact Marly van Oers
06 15511611 marly.vanoers@appsforagri.com | LinkedIn
---

iCrop offers a clear interactive platform to collect and share data about crops, parcels and products.
The cultivation is improved, the costs are reduced and the quality of the product is increased by the
use of iCrop. Ideal for agricultural cooperations, cultivation associations or customers. Read the use case of GMN BV.
With the basic application iCrop you can record the most common processes in agriculture and
horticulture. Various extra modules have been created for specific applications. The iCrop modules
offer the possibilities to further adjust your services to your customers. Our specialists have
developed these modules together with the users so that they fit seamlessly with your practice.Specific modules can easily be manufactured for you. Improve your overview of all your advice with iCrop.

Contact
Are you interested in the benefits for your company? Mail or call me for a free demo that we would like to offer you at your location. Aart Monster 06-53449706 | aart@appsforagri.com | LinkedIn
---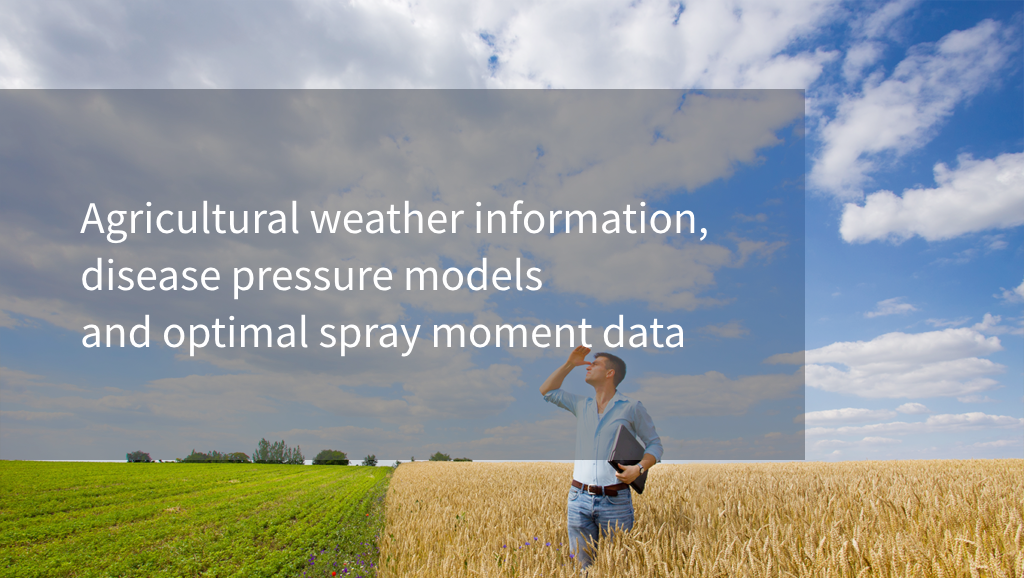 Modern farmers and agricultural organisations increasingly use all kinds of data and information to
gain insight into the progress of the crop. The weather is a very important factor in this.
Our team of agronomists and meteorologists have been working for years on advanced algorithms to
calculate the crop climate based on the measured and expected weather, the crop stage and soil
type.
We offer you a 5 day disease pressure forecast for more than 40 crops and >100 diseases. This data
and information is now available to provide your own software or portal with valuable information.
Read more on our website.
Companies that already use our data include Van Oers United, DCA Boerenbusiness, Agrifirm.

Contact
Do you need weather data or do you want to use our AgroWeatherAPI please contact Marly van Oers 06 15511611 | marly.vanoers@appsforagri.com | LinkedIn