SigFox networktechnology
Geschreven door AppsforAgri
Categorie: News
Geschreven: 7 November 2017
Hits: 4,382 views
The FieldMate sensor uses the latest LoraWan networktechnology, Sigfox.
Sigfox is an low frequency (868 Mhz) network with nationwide coverage in The Netherlands and Belgium. Our tests have shown that rural areas also have good coverage on the Sigfox network. The typical feature of the Sigfox network is the very energy-efficient data traffic. The FieldMate lasts 5,5 year on a battery life! That's care free data gathering at your farm!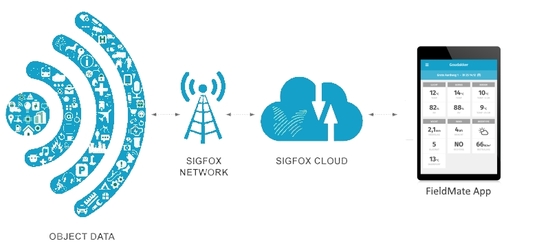 You do not need WiFi, a SIM-card or any power supply. The FieldMate is Plug&Play and can easily be placed in the field. The gathered data will be sent to the SmartFarm app.
We can not make it cheaper and easier to supply your farm with smart technology. Order the FieldMate for your company too!